Présentation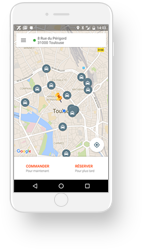 Capitole taxi is based in Toulouse and services the entire metropole.
Our group is the region Occitanie's largest, with more than 20 years of experience providing an unrivalled level of service to all of our customers.
Capitole taxi's customer care centre is open 24/7, and its 170 vehicles fleet is geolocated at all times.
We provide transports service for all your travels, whatever the distance
( airport transfers, railway station transfers and more
Our values
Capitole Taxi innovates permanently.
Our selected, reliable, professionally trained drivers' objective is to provide more than a simple taxi ride.
Capitole Taxi is committed to meet your requirements regarding efficiency, comfort, and budget control every day.
Quality charter
Quality is the hallmark of professionalism, that is the ability to exercise one's profession using all means, resources and skills to offer impeccable service and meet ones' customers' great expectations.

Taxi drivers are driven by the love of a job well done, and they will always provide excellent service, taking in consideration:
- their work relationships
- their customers
- their business partners
- the environment
- their competitors
Drivers are committed to use all means necessary to meet their customers great expectations.
Out of respect for customers they will always be properly dressed, and their vehicles will be impeccably clean and in top condition.
They will always respect their customers privacy, and, bound by professional secrecy.
they will never disclose any word of conversation they had with said customer.
They will respect the quietness of their customers if they do not wish to chat.
They will smile, be polite and show excellent manners.
They will offer assistance to customers to enter and exit the vehicles, and to load and unload any pieces of luggage.
They will scrupulously respect the group contractual commitments with their business partners (professionals, companies, hotels, etc).
On customer request they will issue an invoice (from 25€).
Their objective will be to build and maintain customers loyalty thanks to their outstanding service.